B6
THERMAL-NEUTRON DIAMOND DETECTOR
With 6Li Converter, high Efficiency
The B6 Thermal-Neutron Diamond Detector has been developed for efficient thermal-neutron flux monitoring. An integrated 6LiF converter enables the 6Li(n,α)3H reaction which ensures the best possible energy resolution and high neutron detection rates.

The B6 Thermal-Neutron Diamond Detector can be customized for applications where particle identification and γ-background rejection is of importance.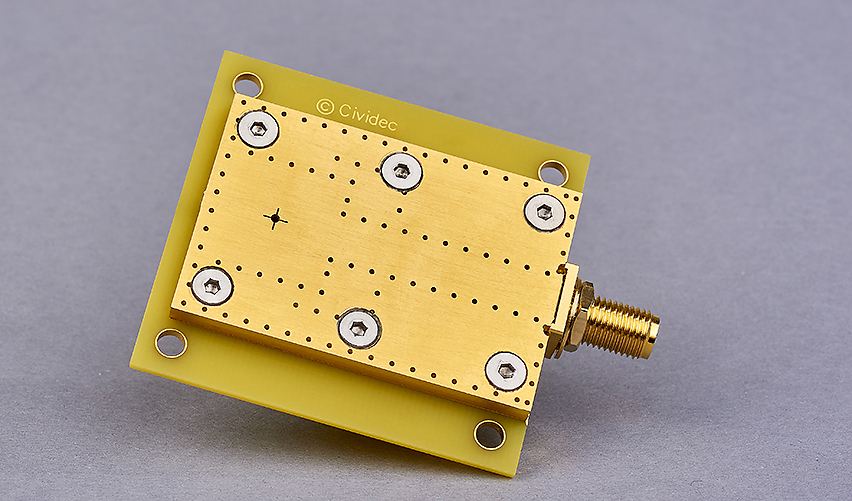 FEATURES
Sensor material:
sCVD diamond
Neutron converter:
6LiF with 95% enrichment
Efficiency for thermal neutrons:
1%
Calibration Aperture:
1 mm in diameter
DOWNLOAD THE PRODUCT INFORMATION

B6 Thermal-Neutron Diamond Detector
This product information download contains the following
CIVIDEC
documents :
RELEVANT PROJECTS
Neutron beam characterization at ATI
At the Institute of Atomic and Subatomic Physics of the Technische Universität Wien, the B6 Thermal-Neutron Diamond Detector was used in 2017 to characterize the new white neutron beam line. Beam profile, neutron flux, γ-background and the amount of fast neutrons in this new beam line was measured in real-time with ROSY®.
https://ati.tuwien.ac.at/startpage/EN/
RELEVANT PUBLICATIONS
Pulse-Shape Analysis for Gamma Background Rejection in Thermal Neutron Radiation using CVD Diamond Detectors
P. Kavrigin, et al., NIMA, 795, 88-91, 2015
DOI:10.1016/j.nima.2015.05.040
A novel Neutron Flux Monitor based on Diamond Detectors at the Vienna TRIGA Mark II Reactor
E. Griesmayer, et al., Proc. of IAEA Conf. on Research Reactors, 16-20 November 2015, 2015
The (n,α) Reaction in the s-Process Branching Point 59Ni
C. Weiss, et al., Nuclear Data Sheets, 120, 208-210, 2014
DOI:10.1016/j.nds.2014.07.048