The LHC Solution for Expanded Dynamic Range
The AC-AC-DC Splitter decouples the DC part from the AC part of the input signal and divides the AC part into two equivalent output signals. The analogue RF bandwidth is 4 GHz and the DC bandwidth is 80 kHz, which is equivalent to a time constant of 2 μs.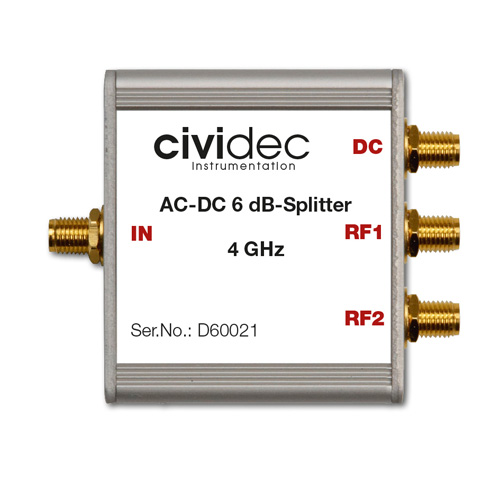 FEATURES
DC bandwidth:
80 kHz (with 1 MΩ termination)
DOWNLOAD THE PRODUCT INFORMATION

D6 AC-AC-DC Splitter
This product information download contains the following
CIVIDEC
documents :
RELEVANT PROJECTS
Beam Loss Monitors at LHC
Diamond Beam Loss Monitors are in use as fast beam loss monitors at the CERN-LHC, Geneva/Switzerland, since 2010. They are used to measure beam losses synchronous to the revolution period of the accelerator. The dedicated electronic chain of the Diamond Beam Loss Monitors includes AC-DC splitters to allow measuring bunch-to-bunch losses as well as the integrated loss on the DC path. For the real-time analysis of the LHC Diamond Beam Loss Monitors ROSY® AX106 is in operation as time loss histogram monitor.
http://home.cern/topics/large-hadron-collider