Nanometer Precision for X-ray Beams
The B9 Diamond XBPM Detector is used for the control of the beam position in experimental beam lines at Synchrotron Light Sources. This detector is an intercepting four-quadrant X-ray beam position detector. The B9 Diamond XBPM Detector provides high X-ray transparency and is therefore also suited for soft X-rays beams. The detector is UHV compatible.

The μ-gap® of the Diamond XBPM Detector makes it most suitable for high-precision measurements of X-ray beams with a beam diameter in the sub-micron range: a nanometer position resolution is provided for sub-micron beams, and 10-3 of the beam size for standard beam sizes, respectively.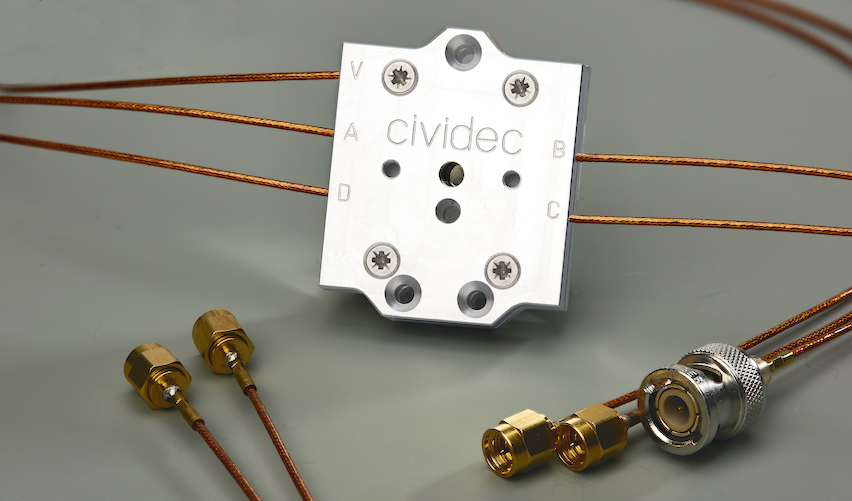 Ideal for precision measurements of X-ray beams in the sub-μm range.
FEATURES
Sensor material:
sCVD diamond
Electrode structure:
4 pads, μ-gap® with 2 μm pad seperation
Electrodes:
100 nm Titanium
Active area:
3 mm in diameter
ADDITIONAL PRODUCT INFORMATION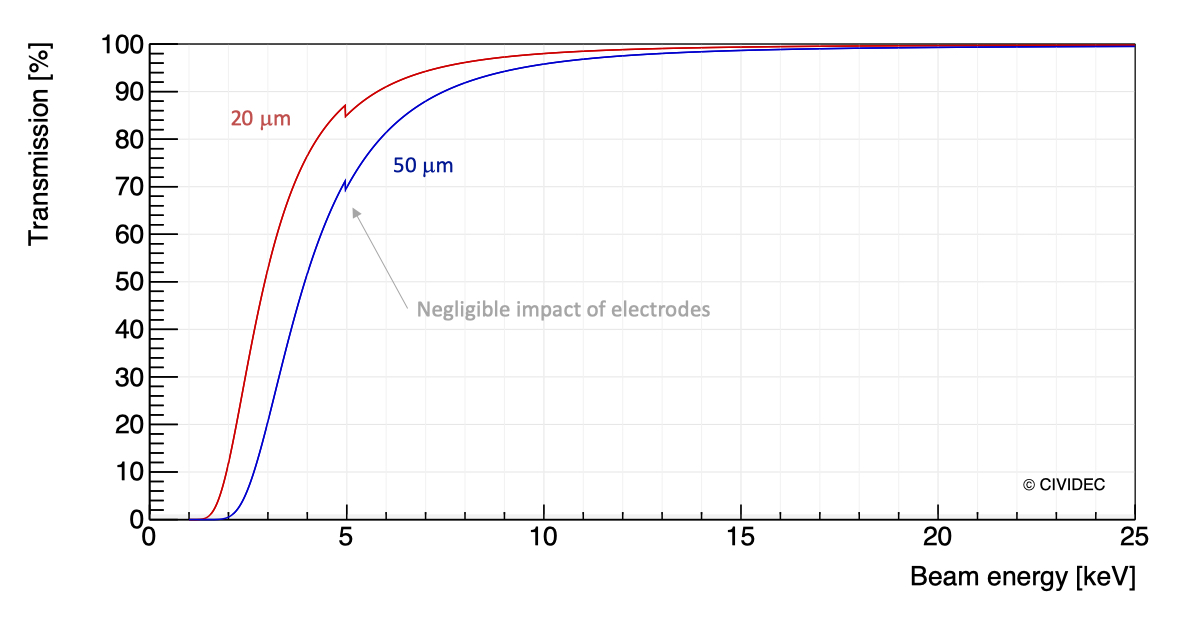 The Diamond XBPM Detector is also used for X-ray beam profile measurements. An example is shown in the Figure, where the profile of an elliptical 13 keV X-ray beam with 20 μm x 10 μm was measured with a step size of 5.9 μm.

The excellent homogeneity of the Diamond XBPM Sensor allows to perfectly reproduce the beam profile.

DOWNLOAD THE PRODUCT INFORMATION

B9 Diamond XBPM Detector
This product information download contains the following
CIVIDEC
documents :
RELEVANT PROJECTS
XBPM for Diamond Light Source Ltd.
The Diamond XBPM detector was developed for the Diamond Light Source Ltd., UK, with the goal to produce an XBPM with an excellent position resolution and high transmission at low X-ray energies. Several Diamond XBPMs are in use at the experimental beam lines of DLS for precision monitoring of the X-ray beam position.
http://www.diamond.ac.uk
RELEVANT PUBLICATIONS
The Use of Single-Crystal CVD Diamond as a Position sensitive X-Ray Detector
E. Griesmayer, et al., Proceedings of IBIC2016, MOPG14, 71-74, 2016
ISBN 978-3-95450-177-9