B5
DIAMOND MOSAIC-DETECTOR
Large Area sCVD Detector
The B5 Diamond Mosaic-Detector is designed for precision spectroscopy of heavy charged particles. An array of 3 x 3 sCVD diamond diodes with a thickness of 140 μm and a size of 4.5 mm x 4.5 mm forms a large-scale sCVD diamond detector. This allows large-area applications, such as spectroscopy of heavy ions or spectroscopy of fast neutrons in nuclear fusion projects.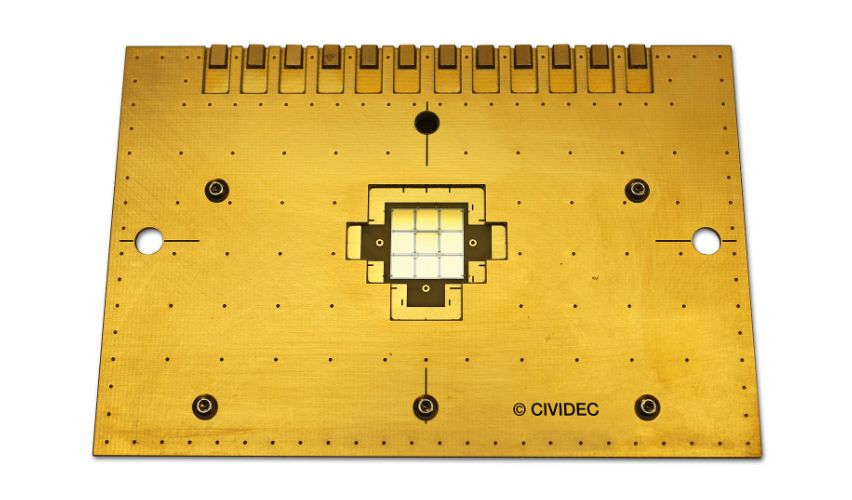 Allowing spectroscopy for large beam sizes.
FEATURES
Sensor material:
sCVD diamond
Electrode structure:
3 x 3 mosaic structure
Active area:
13 mm x 13 mm
ADDITIONAL PRODUCT INFORMATION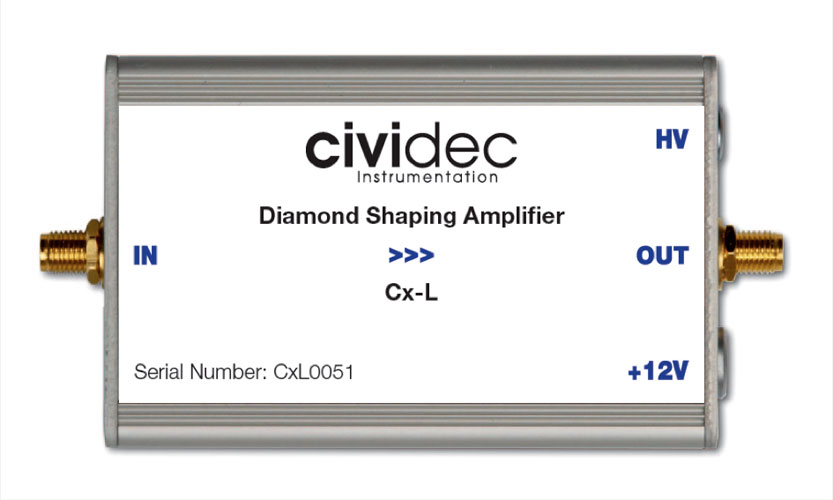 In combination with the Cx-L Spectroscopic Amplifier the B5 Diamond Mosaic-Detector is applicable to fast spectroscopy with rates of up to 1 MHz and an energy resolution of 20 keV FWHM.

With this amplifier a 2 m long detector cable can be used between detector and amplifier, which enables spectroscopic measurements in vacuum.

DOWNLOAD THE PRODUCT INFORMATION

B5 Diamond Mosaic-Detector
This product information download contains the following
CIVIDEC
documents :
RELEVANT PROJECTS
Mosaic Detector for n_TOF
The B5 Diamond Mosaic-Detector was developed for the neutron time-of-flight facility n_TOF at CERN, Geneva/Switzerland. It was used for (n,α) cross-section measurements, which requires a large area spectroscopic detector which can be positioned in the neutron beam without suffering of radiation damage.

https://cern.ch/ntof
RELEVANT PUBLICATIONS
A CVD Diamond Detector for (n,α) Cross-Section Measurements
C. Weiss, et al., PoS(ENAS 6)015, 2011
Response of CVD Diamond Detectors to 14 MeV Neutrons
C. Weiss, et al., CERN-ATS-Note-2012-093 TECH, 2012